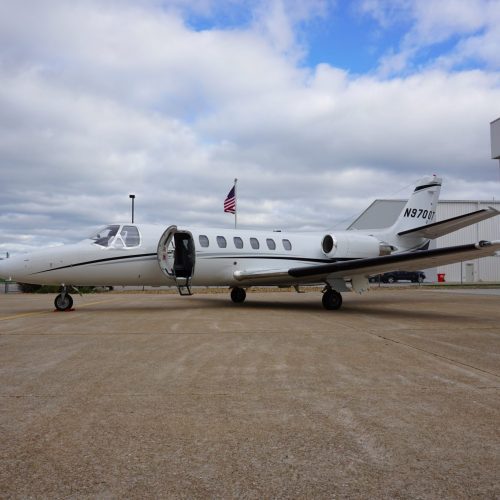 Year: 1992
Make: Cessna
Model: Citation V
Hours: 5223
Serial Number: 560-0203
Tail Number: N9700T
This impeccable 9 passenger, USA based Citation V is a fantastic blend of value, capability and comfort. The aircraft was recently re-painted with a white base accented by black and grey stripes. Along with the exterior, the interior received a full redo complete with recovered light grey leather seats, upgraded side drink rails (CJ2 Style), refinished wood, Encore style galley cabinet, and new carpet, giving it a sleek modern updated look. The repaint and interior was performed on the Cessna factory line.
Aircraft is only 20 hours away from hot sections, and will be delivered with fresh hots unless otherwise agreed upon.
ADSB is not completed, but can be done through several options we have priced. (contact for more info)
No Damage History
Aft bulkhead repair by Cessna Service Center years ago due to mis-guided elevator trim cable rubbing. Repair inspected every 36 months (noted in the Cesscom).
Engines: 
2- JT15D-5A Engines Serial Numbers PCE-108415 & PCE-105411
5223.6 hours / 5117 cycles as of October 19th, 2018
Engines are not on programs.
Avionics:
Honeywell Primus Three Tube EFIS
Honeywell SPZ-500 F/D
Honeywell SPZ-500 Autopilot
Collins VHF 22A comms
Collins VIR 32a Navs
Collins DME 42
Collins ADF 462
Collins ALT 55 radar Altimeter
Collins TDR-94 Mode S transponders
Honeywell Primus 650 Color Radar
Honeywell TCAS I
Honeywell Mark VIII EGPWS
Global GNX-XLS FMS
King KLN-90B GPS
Fairchild CVR
Other Features and Info
-On 135 Certificate for +/- 10 years, professionally crewed and managed in the midwest
-9 Passengers (6 seats, 2 person side sofa, belted lav) + 2 Pilots
-Thrust Reversers
-R12 Air Conditioning
-Power Outlets at Seats
-On Cesscom tracking
-Refreshment Center with Coffee Pot
-Comes with exterior engine and other covers
-Upgraded Eros Oxygen Masks